Solar de Alarcão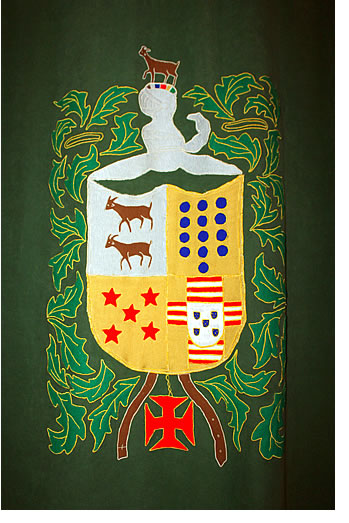 The "Solar de Alarcão" was built in 1686, located in the historical center of Guarda, next to the Cathedral. Through the gate there is a stone slab pateo where you can park your vehicle. In this pateo you can take notice in the entrance to the chapel anex to the house. It presents a covered gallery and a volute staircase on the stone handrail.
In the back there is a garden with a summer terrace, possessing two magnolias, some fruit trees and a magnificent view over the city.
It's interior denotes a quiet living.
It has rooms with bathroom, TV, central heating, with an elegant and serene
climate, where you can notice certain details in the decoration.
It also has three living rooms with fireplaces, one of which is a game room, with an 8-ball pool table a multiple selection of boardgames.
The breakfast, composed of regional products, it's served daily in the Tea Room – "O Bule", attached to the house, or in one of the rooms, in the garden or in the privacy of the bedroom, upon request.
Guarda is the highest city in Portugal, exalted by poets and artists, it stands at 1056 meters of altitude in the Northeast of the moutain chain of "Serra da Estrela" and it is know as the city of the five F's: "Forte, Farta, Fria, Fiel e Formosa." which translates into: Strong, Plenty, Cold, Faithful and Pretty.
The following historical places stand out as places to visit: The Cathedral, Saint Vincent Church, Church of Mercy, Menagem's Tower, Jewry and Museum, all of those being less than 400 meters from the "Solar de Alarcão".
The Municipal Theater of Guarda is also a must visit, it locates itself 600 meters from the "Solar" and presents excelent shows, frequently.
All the region is marked by granite, by the climate with mountanous contrast and by it's pure air (in 2002 it was distinguished as the first bioclimathic iberic city) and cold which allows the curation and making of smoked meats and cheesery of the highest quality. The region's gastronomy can be appreciated in the various restaurants existing in the city.
The 20 castle route and historical vilages, route of the ancient jewish quarters, wool's route, glacial valley route, or the four rivers, are very interesting ways to get to know the region.
The city possesses important road accesses like the A25 which connects it to Aveiro and to Oporto and like the border, connecting Madrid directly; the A23 which conneects Guarda to Lisbon and to the South of Portugal, as well as the IP2 which connects Guarda to "Trás-os-Montes" and "Alto Douro". Regarding railways, Guarda possesses the "Beira Baixa" and the "Beira Alta" lines.